The EPCOT International Food & Wine Festival 2017 Collection by Disney Dooney and Bourke was available from August 31 to November 13, 2017 during the EPCOT International Food and Wine Festival at Walt Disney World Resort.
This year's collection features Chef Figment, along with EPCOT's World Showcase Pavilions. The collection includes two different prints. One of a scene with Figment and the other is an allover print. The collection is made up of two tote bags, a crossbody bag, a wallet, an annual passholder zip satchel and a MagicBand.
The Figment Tote Bag features Chef Figment in the foreground, wearing his chef whites. He is laying on his side and feeding himself grapes. In the background are Spaceship Earth, along with the World Showcase Pavilions. The allover print features Figment along with stamps of the names of the World Showcase Pavilion countries including Italy, Germany, United Kingdom, Japan, Canada and more.
The handbags include a removable, leather hangtag with "EPCOT International Food & Wine Festival 2017" and Spaceship Earth. The bags have brown leather finishings with purple piping.
Food & Wine Festival 2017 Figment Tote by Dooney & Bourke
Retail price: $308
Dimensions:
9" H x 16" W (at top) x 6 3/4" D. Handles hang 11" L
Screen art on coated cotton
Leather finishings with purple edging
Leather carry handles
Removable leather hangtag
Goldtone hardware
Fully lined
"Dooney & Bourke 1975" embossed leather label inside
"Dooney & Bourke" embossed metal label on front
Food & Wine Festival 2017 Crossbody Satchel by Dooney & Bourke
Retail price: $178
Dimensions:
Screen art on coated cotton
Leather finishings with purple edging
Zip closure
Adjustable crossbody strap
Removable leather hangtag
Goldtone hardware
Fully lined
"Dooney & Bourke 1975" embossed leather label inside
"Dooney & Bourke" embossed metal label on front
Food & Wine Festival 2017 Tote by Dooney & Bourke
Retail price: $308
Dimensions:
11" H x 16" W (at top) x 7" D. Handles hang 11" L
Screen art on coated cotton
Leather finishings with purple edging
Leather carry handles
Removable leather hangtag
Goldtone hardware
Fully lined
"Dooney & Bourke 1975" embossed leather label inside
"Dooney & Bourke" embossed metal label on front
Food & Wine Festival 2017 Wallet by Dooney & Bourke
Retail price: $158
Dimensions:
4 1/2" H x 8 1/4" W x 1" D (when closed). Wrist strap and clasp 8 1/2" L
Screen art on coated cotton
Leather finishings
Zip closure
Removable wristlet strap
Goldtone hardware
Fully lined
"Dooney & Bourke 1975" embossed leather label inside
"Dooney & Bourke" embossed metal label on front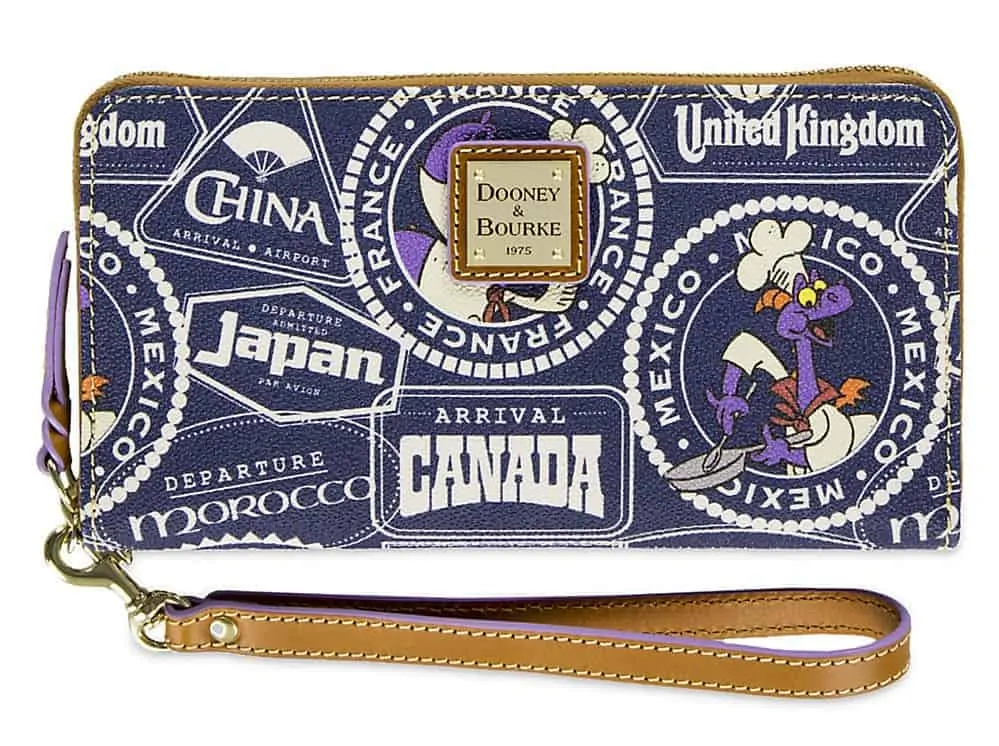 2017 Food & Wine Wallet
Food & Wine Festival 2017 Annual Passholder Exclusive Zip Satchel by Dooney & Bourke
Retail price: $308
Dimensions:
Length: 7 inches, Width: 17 inches, Height: 13 inches
5.5" handle drop
23.5" removable strap drop
Screen art on coated cotton
Zip closure
Leather carry handles
Two exterior zip pockets
Two interior slip ockets
Interior zip pocket
Cell phone pocket
Key hook
Leather finishings
Removable leather hangtag
Removable crossbody strap
Goldtone hardware
Fully lined
"Dooney & Bourke 1975" embossed leather label inside
"Dooney & Bourke" embossed metal label on front
Food & Wine Festival 2017 MagicBand by Dooney & Bourke
Retail price: $48