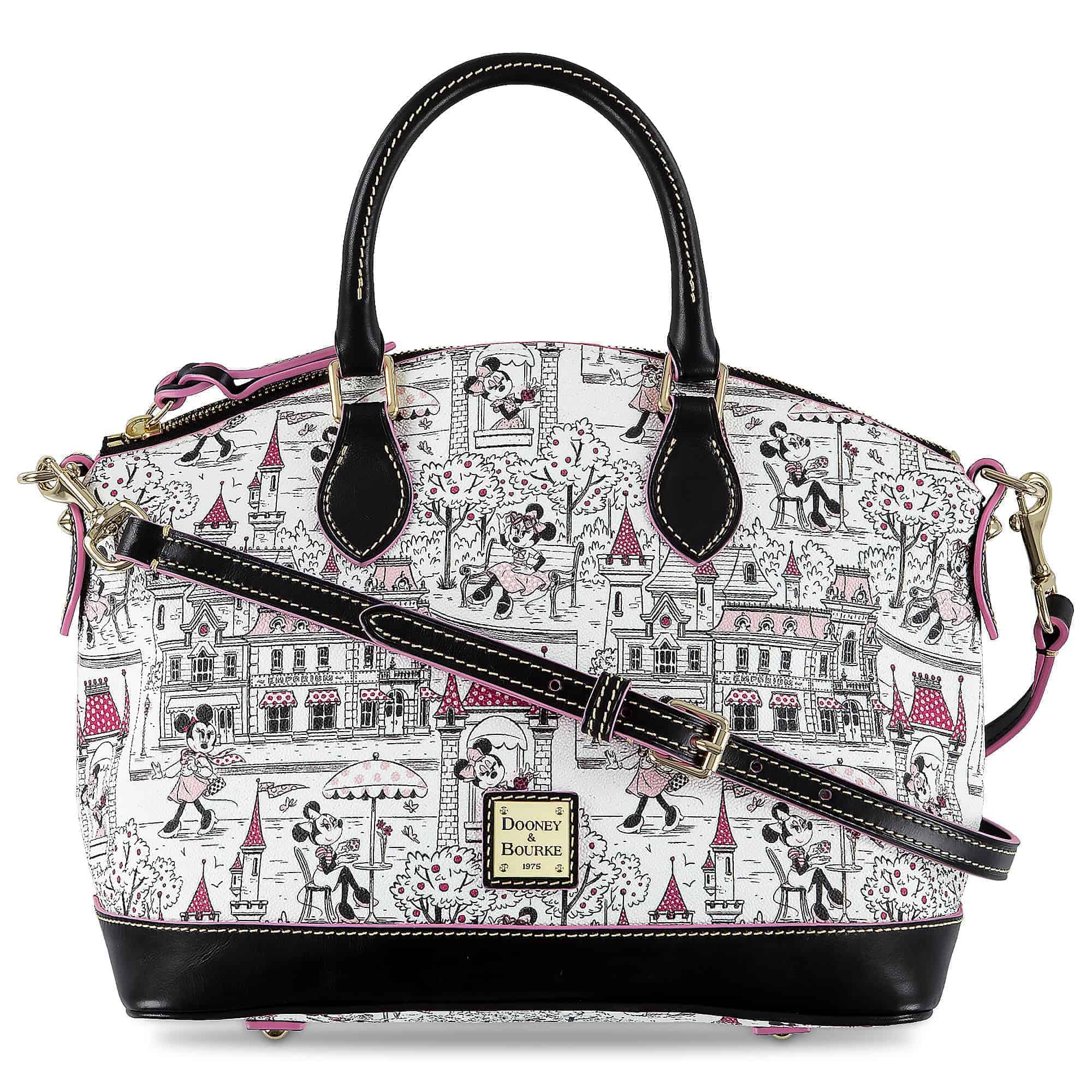 Minnie Mouse finds her happy place in the latest Disney Dooney & Bourke collection released on Friday, April 24, 2020 on ShopDisney!
Shop this collection:

This tote reminds us of the Minnie Cafe – Valentine's 2017 Collection, with a similar Parisian cafe-inspired art style, and the other pieces of this collection bring up memories of the all-over print from the Downtown Mickey & Minnie collection.
The Minnie Mouse Disney Parks Collection consists of four different silhouettes (a tote, satchel, hobo bag and crossbody bag) and two different prints.
The tote bag depicts a scene of Minnie Mouse enjoying a cup of coffee at an outdoor table. In the background are Fantasyland Castle and various buildings along Main Street USA. Many of the images on the print are adorned with Minnie's signature polka dots. The tote bag is finished with pink edging.
The Minnie Mouse Happy Place Collection offers a second print on the hobo bag, crossbody bag and satchel. This one is an allover print of Minnie Mouse visiting various locations around the Disney Parks. She is strolling down the street, having a cup of coffee, looking out of the castle window, and sitting on a bench under some beautiful trees.
The color schemes of both prints are black and white with various shades of pink.
Minnie Mouse Disney Parks Tote Bag by Dooney & Bourke
Retail price: $268
Minnie cuts a stylish figure as she enjoys a cuppa outside Fantasyland Castle. Accented with pink polka dots, this structured tote by Dooney & Bourke keeps your essentials safely stowed in the zip-top main compartment, which also features slip pockets, key hook, and a zip pocket. Goldtone hardware complements the stitched leather finishings and pink edging for a playful yet sophisticated look.
Dimensions:
11 1/2" H x 13" W x 5 1/2" D
Handle drop: 12"
Minnie Mouse and Fantasyland Castle screen art on front and back
Allover Minnie Mouse at Disney Parks print on bottom
Screen art on coated cotton
Interior zip pocket
Three interior slip pockets
Interior key hook
Zip-top closure
Stitched contrast leather finishings with pink edging
Fully lined
Goldtone hardware
Metal feet
"Dooney & Bourke Since 1975" embossed leather label inside
"Dooney & Bourke" embossed metal label on front
Minnie Mouse Disney Parks Crossbody Bag by Dooney & Bourke
Retail price: $198
Dimensions:
7 3/4" H x 3 3/4" W x 6 1/4" L
Allover Minnie Mouse at Disney Parks print on front and back
Screen art on coated cotton
Exterior zip pocket
Interior zip pocket
Three interior slip pockets
Interior key hook
Zip-top closure
Adjustable and detachable shoulder strap
Stitched contrast leather finishings with pink edging
Fully lined
Goldtone hardware
Metal feet
"Dooney & Bourke Since 1975" embossed leather label inside
"Dooney & Bourke" embossed metal label on front
Minnie Mouse Disney Parks Hobo Bag by Dooney & Bourke
Retail price: $268
Dimensions:
12 1/2" H x 10 1/2" W (at base) x 5 3/4" D
Handle drop 10 1/2" L
Allover Minnie Mouse at Disney Parks print
Screen art on coated cotton
Stitched leather trims with pink edging
Zip closure
Exterior zip pocket
Interior zip pocket
Three interior slip pockets
Interior keychain with toggle clasp
Removable carry handle with toggle clasps
Goldtone hardware
Metal feet
"Dooney & Bourke Since 1975" leather label inside
"Dooney & Bourke" embossed metal label on front
Minnie Mouse Disney Parks Satchel by Dooney & Bourke
Retail price: $268
Dimensions:
9" H x 6 1/4" W x 11" L
Handle drop: 5 1/2" L
Strap drop: 26" L
Allover Minnie Mouse at Disney Parks print on front and back
Screen art on coated cotton
Interior zip pocket
Two interior slip pockets
Cell phone pocket
Interior key hook
Zip-top closure
Adjustable and detachable shoulder strap
Stitched contrast leather finishings with pink edging
Fully lined
Goldtone hardware
Metal feet
"Dooney & Bourke Since 1975" embossed leather label inside
"Dooney & Bourke" embossed metal label on front