White Sketch Version 3 pattern has the following characteristics:
Combined banners for "Walt Disney World" and "Disneyland" in green and pink lettering
Chip & Dale appears in this version
This pattern has appeared in 3 different materials: nylon, coated cotton, and pebble grain
Nylon is a lightweight, water-resistant fabric. They are not coated with plastic and feel like slippery fabric.
Coated cotton consists of cotton canvas (or fabric) coated with PVC and is what most Disney Dooney & Bourke bags are made of. They almost feel as heavy as leather but with a smooth sheen from the PVC coating, which makes them more durable and easier to clean.
2018 Nylon Hip Pack
Retail price: $228
5" H x 8" W x 3 1/2" D
This hip pack can be worn around your waist like a fanny pack or converts into a crossbody bag. Stow your small essentials in this adorable nylon travel-ready purse.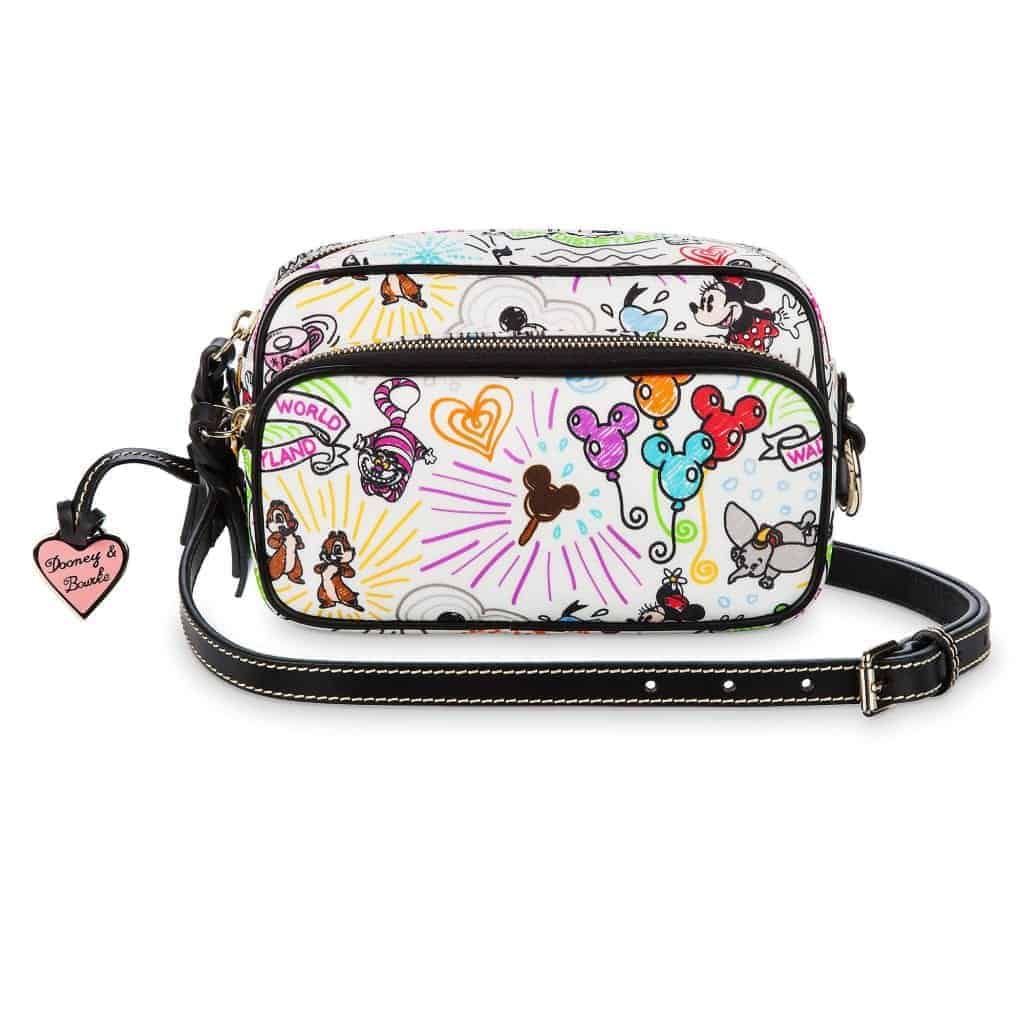 Disney Parks icon pattern includes Mickey Mouse, Tinker Bell, Chip 'n Dale, Dumbo, and more*
Walt Disney World and Disneyland banners*
Nylon print body
Stitched genuine leather finishings and piping
Two zip compartments with braided leather pulls
Interior zip pocket
Interior slip pocket
Interior key strap with clasp
Fully lined
Adjustable leather body strap with buckles
Golden finish hardware
Metal "Dooney & Bourke" heart-shaped charm on leather strap
"Dooney & Bourke" embossed leather label inside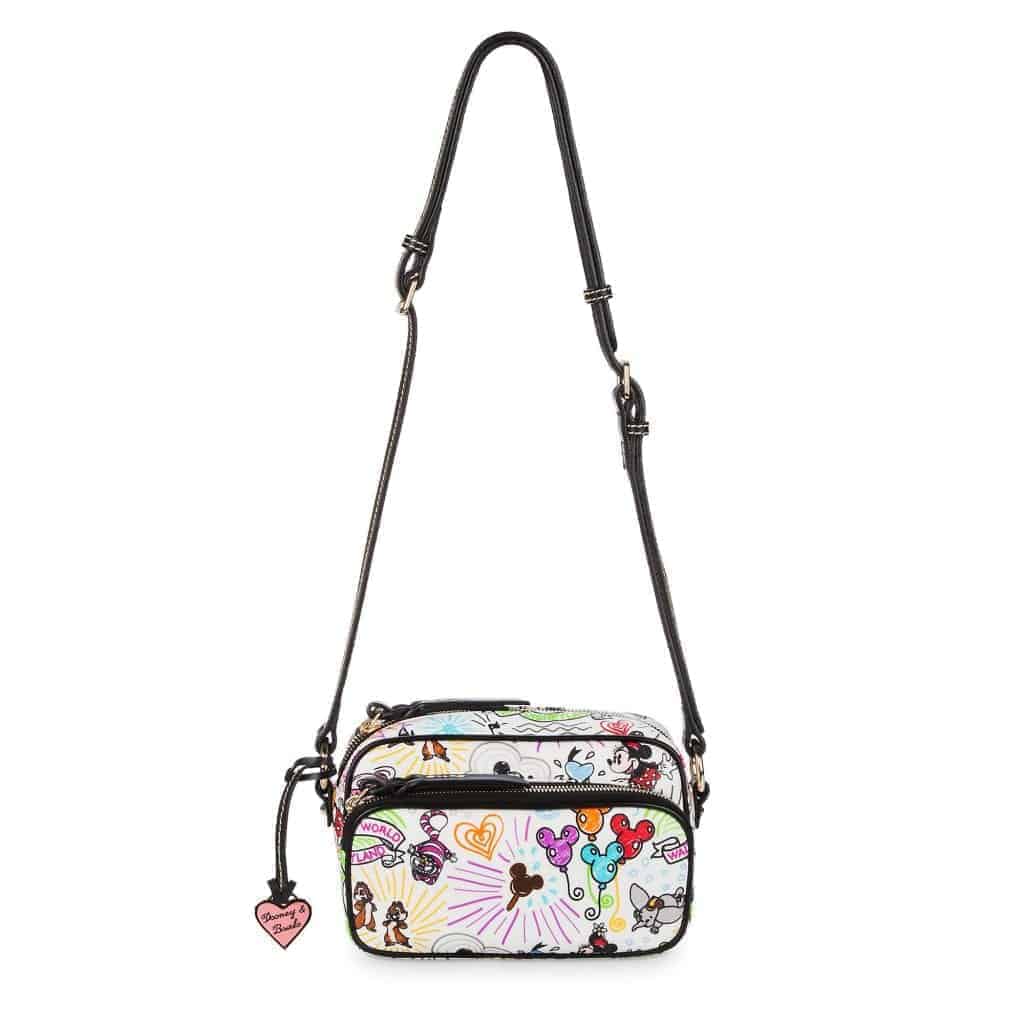 2018 Nylon Large Backpack
Released June 2018
Length: 7.5 inches, Width: 14.5 inches, Height: 17.6 inches
Retail Price: $318
2018 Coated Cotton Collection
Released March 2018
Hobo – $248
9 1/2" H x 6" W x 11 1/2" L
Large Tote – $298
Satchel – $248
8 1/4" H x 12" W x 6 1/2" D
Top handle drop: 3 3/4" L
Tote – ?
Wallet – $158
4 1/2" H x 8 1/4" W x 1" D
2017 Nylon Collection
Released August 2017. This collection has black leather trim, straps, and handles.
Zip Satchel – $228
10" H x 14 1/4" W x 7 1/2" D
Shopper Tote – $228
12" H x 19" W x 7 1/2" L
Pouchette – $138
7" H x 9 1/2" W x 2 1/2" D
2016 MagicBand
White Sketch MagicBand – $48 (July 2016)
2014 Pebble Grain Collection
Small Shopper – $188 / $198
9"H x 6"W x 11 ½ L
White Sketch v3 Crossbody Bag w/ Leather Corners – $198
8 1/2" H x 8" W x 1 1/2" D
Crossbody Satchel – $268
10" H x 11 1/2" W x 5" D
Large Tote – $260 / $268
Small Crossbody Satchel – $195 / $198
Weekender – $360 / $398
Medium Shopper – $228
Letter Carrier Crossbody – $198
Wallet – $120 / $128 / $158
Pouchette – $158
Large Zip Shopper – $245 / $248
Zip Wristlet – $85 / $88
iPad Mini Case – $68
Cosmetic Case – $29 with purchase
2014 Coated Cotton Collection
Satchel – $268
Shopper Tote – $228
Weekender – $398
Nylon 2012 Collection
Backpack – $198 / $248
Medium Erica (Champsac) – $198
Zip Pocket Sac Satchel – $238 / $248
Erica (Champsac) – $198
Letter Carrier Crossbody – $128 / $158
Cell Phone Case – $60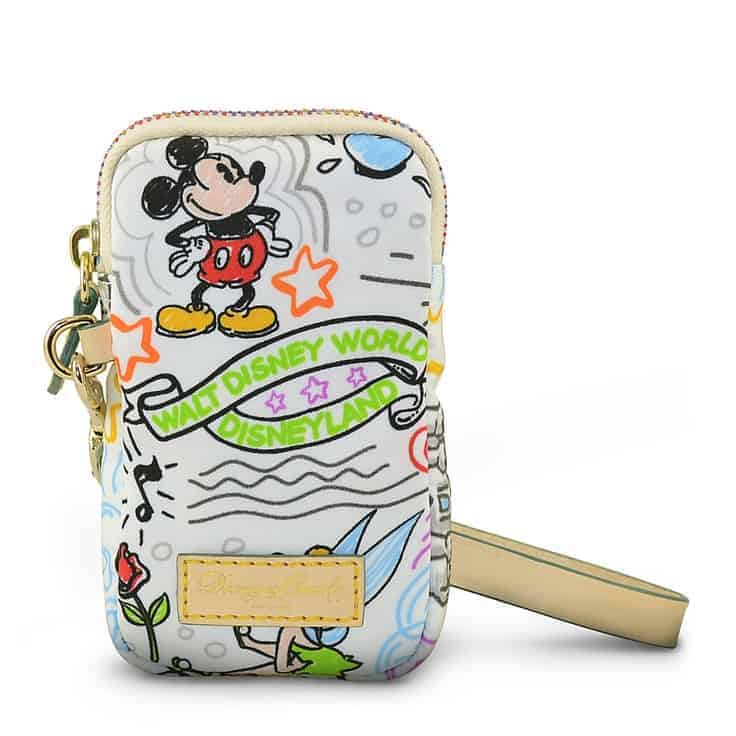 Zip Wristlet – $120 / $98
Previous versions of the white Sketch pattern can be found here: White Sketch v1 and White Sketch v2