Lately, we have seen an alarming number of Facebook sponsored ads circulating for scam shopping sites that we want to warn you about.
Disney Dooney & Bourke Facebook Scam Ads
These Facebook scam ads claim you can purchase the latest Disney Dooney & Bourke handbags at a 75% off discount, like the screenshot below.
The creators of these fake Disney Dooney ads will use official photos from ShopDisney or social media photos from real Disney accounts to make their Facebook ads seem official. They have even stolen photos from our site! They advertise Flower and Garden Festival 2020 or Disney Dogs Sketch for as low as $29.95. These ads are scams and 100% fake.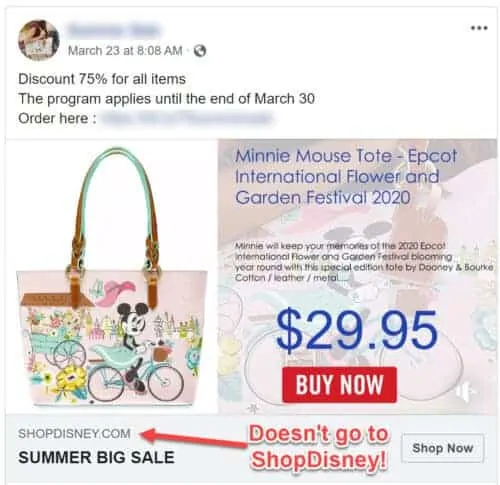 While we and knowledgable Disney Dooney & Bourke collectors try to warn other buyers by commenting on these scam ads, the fake sellers delete these comments so people continue to fall victim to this scam. To see current information on Facebook scammers, visit our Facebook post. If you have information or screenshots to contribute to our Facebook post, we welcome your comments so that we can continue to warn fellow Disney Dooney shoppers.
New Facebook Scam Ads – May 2021
The scammers have updated their ads with more recent Disney Dooney and Bourke collections. We have seen scams advertising the 2020 Haunted Mansion Collection as well as the Disney Side Kicks Collection for up to 69% off. The scammers are relentless.
More Facebook Scam Ads – August 2020
As new collections are being released, Facebook scammers are also updating their ads to reflect the new Disney Dooney & Bourke merchandise. We have seen scam advertisements for a variety of collections, including the Little Mermaid purse collection.
These ads advertise handbags for 49% and 50% off.
Other scammers are using the Geometric Mickey and Minnie Mouse Collection and the Bambi and Forest Friends Collection to scam online shoppers.
These ads offer even deeper discounts of up to 70% off. Don't fall for them! The vast majority of commenters who have fallen for these scams never received anything from the scammers. They simply took their money and ran!
Fake Disney Dooney & Bourke Shopping Sites
The Facebook scam ad above looks like it will take you to
ShopDisney.com
but when you click on it, they will take you to a random Shopify store or a website that you do not recognize. Here are some ways to spot a fake Disney Dooney & Bourke shopping site, like the one below:
The website design doesn't match the real ShopDisney website
The website URL says Shopify or doesn't match the real ShopDisney website
There are misspellings on the website
Original retail prices are incorrect
Finally, the prices are too low to be true!
If you compare the original retail prices of the handbags on the fake site compared to ShopDisney (screenshot above), you'll see even the retail prices are wrong. The Flower & Garden 2020 tote should be $298 retail but the scam site lists it as $120 retail before their fake discount. Even after a bag becomes sold out online, you can always use our site to find the original retail price of almost every Disney Dooney handbag ever made.
A brand new $298 handbag for only $30?? Sounds too good to be true because it is!
Disney Dooney & Bourke Scam Shopping Site Disappears
After seeing one of these fake Facebook ads, we bookmarked the link to monitor the scam shopping site. When we visited it again a few days later, this is what we found:
The whole online store disappeared! Imagine how worried someone would be if they bought something from this site, only to find it gone a few days later… and probably their money is gone too.
How the Facebook Ads Shopping Scam Works
There are a number of ways that scammers will use these fake shopping sites and online stores to make money illegally. The best-case scenario is that you won't get what you purchase but a cheap knockoff of the item. However, there are much worse things that can happen.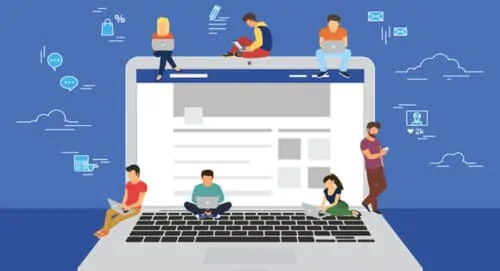 You receive a counterfeit Disney Dooney handbag or something completely different from what you ordered
You receive stolen merchandise that could be traced back to you (also known as a triangulation scam)
You will be charged for your purchase but never receive anything. They will even send you a used tracking number so it appears that your item was shipped and delivered
Your credit card number and personal information are stolen and sold to criminals, who will use it to make fraudulent purchases
Also, it's important to note that while we have personally seen these ads on only Facebook so far, these fake scam ads are likely to pop up on Instagram and other social media sites.
What should I do if I already ordered from a scam site?
Is it too late? Did you already order from one of these scam sites?
Contact the site or seller and cancel your order. If it takes more than 48 hours for you to get a response, that should be a big red flag.
Contact your credit card company or bank to file a fraud claim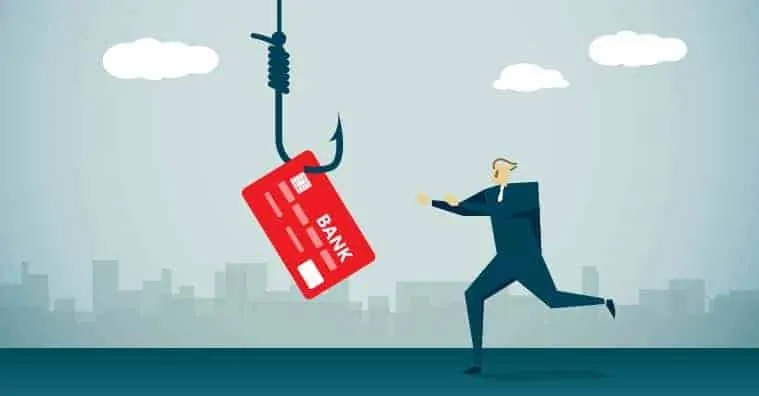 We highly recommend that you NEVER use your debit card to make purchases online because debit card purchases are immediately deducted from your bank account balance. Credit cards and even PayPal will offer you much more protection in case of disputes and the money doesn't come straight out of your bank account.
Where to Buy Genuine Disney Dooney Bags
We all want a good deal but it's important that you don't become a victim to online scammers. To guarantee authenticity, we recommend purchasing Dooney & Bourke bags directly from Disney Parks, ShopDisney, or a trusted personal shopper.

If you must buy from a third party because the print is sold out or retired, make sure you buy from a reputable seller using PayPal through an invoice or pay as goods and services because both options offer Buyer Protection.
We also recommend buying from eBay because you can check a seller's feedback and eBay protects your purchase. However, you should still avoid buying the 2 Disney Sketch silhouettes that we know are being counterfeited, except directly from ShopDisney. Check out our post about counterfeit Disney Dooney & Bourke Bags:
Did you find this post helpful? Subscribe to email updates on new posts below:
PLEASE share with your Disney purse friends so they don't get scammed!